Orienteering with a Family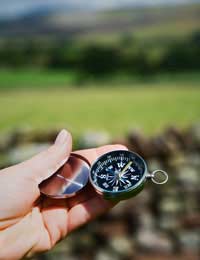 Before anyone begins to worry that an orienteering adventure is going to turn into a latter-day version of the Blair Witch Project, the entire family deep in unknown terrain and unable to find their way back to the highway, organised events involve a great deal of planning, with the safety of competitors at the top of the list of priorities.
The flipside of this is the notion that these events are nothing more than glorified strolls in the park, in which everyone enjoys a couple of hours away from the noise and pressure of urban living before returning to the welcoming embrace of a barbecue prior to the return journey.
The reality of orienteering lies somewhere in between these two extreme views: no, you won't be in danger; but equally, no, you can't just spend the day admiring the countryside. For a start you have to be prepared to tackle tough terrain, whether that be thick undergrowth, tricky water crossings, or mud. The idea of this would be enough to put some would-be competitors off. But for those who love the sport, the mud, sweat and cheers is the whole point.
Good Level of Fitness
The children won't take much persuading to dive straight into the challenge, while parents with a good level of fitness will find those hours in the gym will pay off as their stamina is put to the test.
The sport also requires new skills to be learnt – another challenge that should suit the children right down to the ground. For one, the ability to read a map is very important if you want to take course by storm. Equally, compass skills represent another box that needs to be ticked. All this adds up to exhilaration and education in equal amounts – what more could you ask for in a family-oriented sport?
So, how do you get started? Well, there is no better place than the site of British orienteering (http://www.britishorienteering.org.uk), which offers a general introduction to the sport, as well as a nationwide club finder to point you in the direction of a participating group near you. There is also information on age classes and the system of colour-coded events – from white to brown – based on degrees of difficulty.
Changing Weather Conditions
Given the terrain challenges that face competitors, not to mention the small matter of potentially changing weather conditions during the course of an event, equipment and gear are very important. In terms of footwear, waterproof uppers and soles that have a good grip are just the job. Each member of the group should have at least two layers that can be worn or packed away depending on the temperature, and these should be supplemented by a waterproof outer shell.
At least one adult should be assigned a small backpack that can carry maps, compasses, a distress whistle as well as energy bars, water and other provisions. A mobile phone should also be carried. It is a good idea to check that the network in question covers the area in which you will be operating.
Orienteering offers mental and physical challenges for the whole family. All that running, jumping, incline walking and climbing adds up to an exciting and healthy pursuit that will have the adrenalin pumping long after you are all tucked up in front of the fire at home enjoying a well earned supper.
You might also like...