Beach Fitness for the Whole Family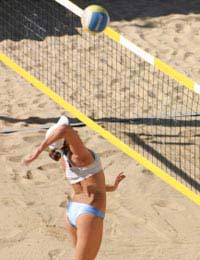 There's nothing like a few days beside the seaside to fill everyone with renewed vigour. It's probably got a lot to do with the freshness of those coastal breezes flushing some of the toxins out of long suffering city lungs. Mind you, the kids will probably say it's more likely the regular visits to the ice cream van parked on the promenade.
Children don't need any excuses to stretch their legs on the sands, and whatever the weather it is a good idea to encourage such bursts of energy by packing the bare essentials for a few games into the car. For example how about a beach cricket or baseball set? Not only will it prove popular, but it has the added bonus of drawing in other children, thereby making it possible for your own offspring to make some holiday friends – who needs Facebook when some old-fashioned human interaction can do the trick just as well?
Burn Calories and Test Stamina
Another popular game to try is beach volleyball. It may not be for the fainthearted, physically or mentally, but that's the whole point. Not only will it burn calories and test stamina, but all those lunges, squats, high reaches and turns will do wonders for your body tone. Just be prepared to accept defeat graciously because no-one wants a problem parent just because their team lost by the odd point.
In terms of working out solo, a Swiss ball can be the ideal partner. Not only is it highly portable – you inflate it once you get there – but it will allow you to undertake a number of routines and repetitions without having to get down in the sand. It's best to time your workout for an early morning slot before the rhythm of daily beach life begins to quicken because crowds are not only bad for the more self-conscious athlete, but they can eat into the focus you need to concentrate on technique to complete your reps.
Hand weights, too, can be a useful addition to your kit, either for working the upper body or for making runs along the shoreline a little more testing.
If the sand is firm enough underfoot to run, make sure again that you run in the morning to avoid the crowds and that your course is far enough away from the lapping waves to avoid water getting into your shoes. By the way, ensure that you are wearing a pair of shoes: it may appeal to your romantic side to take in the morning air while running barefoot, the sand between your toes, but there could be any number of small objects underfoot, shells being one of the more natural hazards, that can abruptly end your activities due to a nasty cut or bruise. The same applies to the children's feet – remember that not everyone tidies away their litter as thoughtfully as you and your family.
Stretching and Working the Muscles
Of course, the sea can provide another useful fitness tool, but always bear in mind that currents and sudden increases in depth due to an uneven sea floor make this a much more unpredictable environment than the swimming pool. If you are planning some longer distance swims, ensure you inform someone when you are leaving and when you expect to return.
Safety issues aside, water provides the ideal support for stretching and working the muscles. Which is just as well if that ice cream van on the promenade proves too difficult to resist.
You might also like...