Belly Dancing for Fun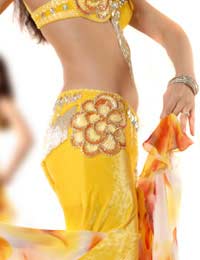 Contrary to popular belief, belly dancing is not a Middle Eastern variation of pole dancing performed for the titillation of businessmen blissfully unaware of their own midlife crisis. It is, in fact, a performance art that dates back thousands of years, requiring not just a high level of fitness but the ability to utilise both physical and emotional expression to bring each movement to life.
Regional variations exist between, for example, the Egyptian form and the more energetic Turkish version, while exposure to Western audiences has also resulted in an evolution in style in the United States. However, the principles remain the same.
You only have to watch a skilled exponent in action to realise that belly dancing encompasses so much of the toning movements that have been adopted by today's generation of personal trainers and exercise-class designers. Take those undulating abdominals, or the focused, studied movements of the upper arms, not to mention the wonderful posture of a straight back, solid core and a head well balanced on top of the neck. Then there are the turns and shimmies that require both the abs and the thigh muscles to work in unison to allow the hips freedom of expression.
Veils and Traditional Costume
While the best performers utilise veils and traditional costume to bring the art truly to life, the good news for those who simply want to join a class either out of curiosity or to broaden their range of toning activities is that beginners simply need some Lycra and footwear with a good grip - in short, their regular workout gear. Finding a local class should not be a problem because an internet search engine is likely to throw up at least one option within close proximity.
Ideally, you should be looking for a teacher who offers a range of classes, from beginner to intermediate, in order that should you get a real feel for belly dancing, you have the opportunity to improve your skills while simultaneously bringing greater strength and tone to your body. It is unlikely that you will find taster sessions intimidating as they tend to attract individuals from a range of age groups, with the accent on having fun rather than showing off.
Tempo and Inspiration
If you prefer to exercise in the privacy of your own home, there are a number of books and DVDs on the market that not only explain the individual movements but also offer a selection of traditional pieces of music that provide tempo and inspiration for the dancer's movements.
Remember that in common with all other forms of exercise, belly dancing sessions should be preceded by a solid 15 minutes of warm up, with the equivalent warm down at the end in order to ensure that your muscle groups are well prepared for the demands that you will be making on them.
There may be individuals who are inspired by their classroom experiences to take belly dancing to a more advanced level. But for the vast majority of participants the companionship and fun of the classroom, together with the real results in terms of toning that the discipline will bring, will be enough to satisfy their curiosity. But even this more casual flirtation with the art is still an affirmation of the real skill needed to bring life to these centuries-old movements.
You might also like...