Circuit Training for The Over 50s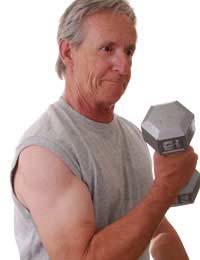 The boom in the exercise industry during the course of the past 20 years has caught the imagination of millions from teenagers to the middle aged. But there is one section of the population that in one sense has been rather left behind. Namely the seniors, or over 50s. Thankfully, the industry hasn't been slow in picking up on this and classes have become a feature on curriculums across the world.
Providing the equipment and facilities is one thing, pulling in numbers is another. It seems that despite the best efforts in terms of health education, too many people over 50 still view exercise has only being relevant for those who are younger. Nothing could be further from the truth because while older muscles and joints are not going to respond positively to high-impact routines, they can still be trained to operate more efficiently using circuit training. The same applies to the cardiovascular system. Not only will this system work better with training, but it will lead to a greater feeling of well-being and broaden the horizons of many who felt their life choices were slowly diminishing with each year that passes.
New Challenges
Classes also open up the possibility of making new friends to enjoy these new challenges with. So what can an individual expect when they sign up? Well, in common with all exercise sessions, they will begin with a warm up and correspondingly a warm down at the end using one of the machines such as the bike or treadmill. The importance of these sections can never be overstressed.
As far as the main body of the class is concerned, there may be mat sections where both push-ups and sit-ups are used, the number of repetitions slowly increased over the weeks as an individual's body adapts to the new demands and builds muscle strength and better breathing technique. The same will be true of work using, for example, a leg or chest press. Whether working on the mat or a machine, the number of reps reflects the progress that is being made, and it can be surprisingly how quickly muscles react positively to the work being asked on them. The amount of resistance should be carefully planned so that an individual doesn't try to progress too quickly and risk injury.
Inspiration and Confidence
A series of senior circuits can be ideal in shaking out the lethargy and providing the inspiration and confidence to progress to one of the other classes, such as Step or Pilates. Suddenly that feeling of old age and the accompanying lack of confidence and fear of frailty will have been replaced by a brighter, bolder more confident self. And one that feels ready to tackle whatever an instructor can throw at them.
Before enrolling on a circuit class, it is a good idea to consult a GP, even if there are no pre-existing conditions that need to be taken into account. If, however, an individual does present with, for example, joint problems, diabetes or raised blood pressure, the doctor is bound to be encouraging while obviously stressing that caution needs to be applied. Be sure to inform your instructor about any such conditions, too, so that they can make the appropriate allowances in terms of programme design.
You might also like...
Why when I search for circuits or exercise classes for the over 50s are they sedentary ones !!I am an active very many years older than 50 and need a class with other people which I can enjoy I can sit down at home!
Crystaltips
- 1-Jun-19 @ 8:39 AM