Take a Hike - European Walking Holidays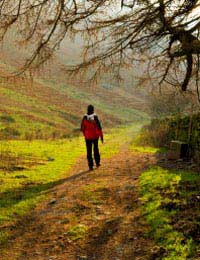 Spectacular scenery, delicious food, and the chance to dust off your high-school French, German or Italian – for those who can still find sufficient room in their ever shrinking budget to pack in an annual holiday, picking out a good set of walking boots and setting off to explore mainland Europe's areas of natural beauty is the perfect way to clock up a few miles on the exercise clock while temporarily forgetting the credit crunch headlines back home.
For some reason, walking still elicits a few snorts of derision in the locker room - perhaps because this more gentle of pursuits will not leave you pumped up with adrenalin and peeling off a sweat-soaked leotard or exercise vest. But exercise doesn't have to be all about hi-energy and whoops and whoops of self-motivation. Take a five-mile route through the Swiss Alps or the valleys of the Andalucian region of southern Spain. Or maybe the coastal trail that links the 'Cinque Terre' villages that hug the Ligurian coastline in north-western Italy.
The lower body will be getting through plenty of work negotiating those uphill stretches; the cardiovascular system must be ready for the challenge, too; while those core muscles of the lower back and abdominals have to be ready to provide a solid basis for the good posture that is essential for healthy hiking. The gentle film of perspiration on the brow may lack the dramatic outpourings of the dance studio back home, but it is indication enough that clocking up the miles, sorry kilometres, is putting your body through its paces.
Snapshot of a Country's Soul
Walking with children brings its own rewards because they are simply more inquisitive than adults. Flora or fauna that the grown-ups would simply breeze past, probably because they are mentally picturing the cool beer or glass of wine at the bar in the next village, will have the kids rushing over to investigate.
In an age when travel, whether by aircraft, or motorway, means missing out on so much local colour in the rush to get from A to B, walking holidays offer children the chance to really enjoy a snapshot of a country's soul. The carefully planned route maps that many operators include in their packages will also give them the chance to interact with the locals in a relaxed atmosphere. After all, a few brief exchanges with the receptionist in a five-star hotel is hardly the ideal way to introduce children to different languages and cultures, particularly as the hotel staff are likely to be trained to address everyone in English.
Rest Days
Ensure when you explore the options that you do not pick a walking holiday that is too hard core. Covering long distances on a daily basis may be fine for adults-only parties, but children are not only physically unable to keep up with the pace, but they are also likely to get bored. So look for an itinerary that is based at a good-sized hotel with a pool, so that on rest days, you can keep up your toning routine, while the younger ones splash about and let off a little steam. Proximity to a large town or a schedule that includes stopovers in larger urban centres is another way of mixing up the serious business of walking with a little pleasure for the children.
Ideally, you want everyone to return home happy with their experience, and even happier about the prospect of undertaking a similar trip next year. In terms of the exercise schedule, the scenic miles that you have covered on holiday will mean you won't have to shake the cobwebs out of your limbs when you head back to the gym.
You might also like...