Boxercise Yourself Fit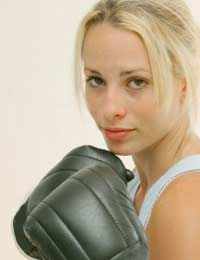 Boxing may lack the more holistic aspects that give so much credibility to Eastern martial arts disciplines, but that doesn't mean that it is simply all about swinging the arms as quickly and aggressively as possible. No, boxing is indeed a physical art, calling on speed together with co-ordination of both arms and feet to produce fast, decisive thrusts that can beat an opponent to the punch. The sport also requires a great level of fitness.
So, take away the combat element of the sport i.e. an opponent and you are still left with a fantastic form of exercise. This is what the health industry discovered about 20 years ago, since then boxing, or more accurately the marketing man's makeover, boxercise, has been steadily gaining in popularity.
Professional Instruction
You'll find boxercise on the list of classes at many gyms, and this represents a good place to start. Alternatively, you could build it into the regular sessions with your personal trainer. Either way, the bottom line is that success is only going to come under professional instruction. Then, and only then, are you ready to go solo and hang a punchbag up in the spare bedroom.
Apart from your usual exercise kit and shoes, the basic equipment needed for a boxercise session are a pair of leather gloves, to be worn by you, and a pair of pads, to be worn by the instructor. In terms of routines, you will be asked to run through a number of combinations involving both right and left hands, and sometimes with one of the pads at a lower level so that you are using your lower body to step down and into a punch. Pads can also be held wider apart to make the abdominals work harder. In addition, padwork may include kick boxercise moves, this time to put your leg muscles to the test.
Keep your Elbows Up
In terms of technique, always keep your elbows up when punching so that the extension of your arm is a smooth one emanating from the shoulder muscle. Use your whole body as the basis for each punch, utilising the core muscles of the lower back and abdomen as the basis from which you move into position for a strike. Breath through each punch, too, so that you are exhaling as your glove lands on the pad, and inhaling as you draw back for the next one.
Boxing works so many muscle groups that you'll soon discover why the professional sport is organised in a series of three-minute rounds. Initially, you'll end a session with your arms feeling like lead and your legs wobbling ever so slightly as you make your way to the shower room – a sort of self inflicted knockout blow. But don't worry - as your strength and stamina improve, and the arm, shoulder and leg muscles become accustomed to the new demands you are placing on them, the sessions will become more and more invigorating. You will feel stronger, lighter and more in touch with your physical self. In short, fighting fit for whatever life throws at you.
You might also like...