What's Cooking?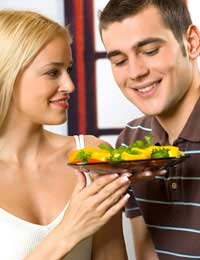 Exercise is only part of the programme from which will emerge a fitter healthier self. You've got to be looking at what's happening in the kitchen, too, because not only will the wrong foods add unnecessary weight but they'll put extra stress on the body's vital organs.Think of your body like a motor car. To work to maximum, the machine must consume the best fuel available. The same is true of what you put into your mouth. The healthier and more nutritious your fuel is, the more efficiently your body will perform during exercise.
Of course there is a balance to be struck. No one is saying that the occasional indulgence such as a bowl of ice cream or a glass of wine is out of the question. Rather, they should be enjoyed as a treat or on special occasions. A regular eating programme should be based around a good balance of fruit and vegetables with the option of fish and white meat such as chicken or turkey. Red meat, rather like that glass of wine, should be consumed sparingly as it will contain a greater amount of saturated fat.
Muscle Tissue
Remember that your new regime will mean your body will be asked to work harder, so you'll need the energy provided by complex carbohydrates such as pasta, rice, bread, and vegetables such as potatoes and lentils. Low carb diets are definitely out; otherwise you'll find yourself way behind the rest of the class because you've simply run out of fuel.The other half of the equation is protein, which helps restore muscle tissue. You'll find this in meat, fish as well as dairy products such as eggs, milk, butter and cheese.
Aim to construct meals that offer a good balance of both proteins and carbohydrates. A simple combination along these lines is potatoes and chicken, pork chilli or an Italian meat ragu combined with a ribbon pasta such as tagliatelle. Desserts can simply consist of some fresh fruit, or some yoghurt.
Given the pressure of both professional and family life, too many people resort to the supermarket chiller cabinet and ready meals that can be popped in a microwave. This is not to say that this piece of kitchen kit should be locked away in a cupboard as part of your new regime. Rather, forget the ready meals and take a day to have a big cook-up of fresh ingredients, then divide the finished dishes into single or family portions that can be defrosted while you are out at work, then reheated in the microwave when you return home. Not only will this be a more economical way to enjoy food; more importantly it will be a lot healthier, for example because you will be able to control the amount of sugar and salt that is added to the recipe.
Drink Plenty of Water
Hydration is another vital part of the regime, so drink plenty of water both before and after as well as during sessions. On non-training days, remember to keep topping up your water level regularly, and keep the aforementioned alcohol intake to a minimum, not least because it will lead to dehydration.
It's all too obvious to label the above a recipe for success. However it is surprising how many gym regulars pay more attention to what they wear on their body than what they put in it. Remember that exercise and good diet is the only way to bring real and lasting results. So when you're not on the move, get cooking and eat your way back into good condition.
You might also like...