Some Common Cooling Down Routines To Follow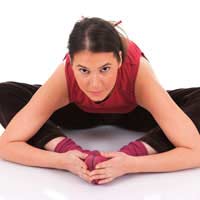 Feeling hot hot, hot. After a rigorous session, the pulse is racing and the muscles taut and primed for action. Now is definitely not the time to slam the brakes on and go from 70mph to zero in a very short space of time. Why? Because it is unnatural. In the same way that you wouldn't think about starting a weights circuit or a class without first warming up, the same approach should be applied at the end of session by allowing your body to gradually relax and your body temperature to return to normal. That way, you'll avoid that tell-tale stiffness two days down the line.
As well as setting yourself a cool down routine, it is naturally important to build the time to complete it into your schedule. There's no point having the best of intentions, then finding you've got an afternoon meeting that starts in 10 minutes. If there is only a spare hour available, make sure you take 10 minutes to warm up and 10-15 to cool down. Ok, that only leaves a maximum 40 minutes exercise, but if you want your body to play ball, then you've got to cut it some slack at both ends of every session.
Gentle Stretching
Start with some gentle stretching of the Achilles and the hamstrings, followed by some side lunges that will benefit the long line that runs from your ankle, through your hip and to your wrist. Be gentle in your movements; remember that you are soothing rather than pulling your body back into shape. "Gently does it" should also be the philosophy with some star jumps that will not only work both upper- and lower-body muscle groups but help you breathe deeply and easily, allowing you to both physically and psychologically wind down.
Don't forget the muscles in your back, either. Down on the floor, flat on your back and raise your legs so that your hands rest on the tops of your knees. Remain in this position for 15-30 seconds before slowly and gently returning your legs to a full-length position.
Post-Exercise Smoothie
If you are finding the cool down period a bit of chore, why not complete it with a partner or fellow class member. You can use each other for support, for example when balancing to complete achilles or quadriceps stretches, and you'll find the social chit-chat will make the routine pass a lot more quickly and easily. It may also prove a useful way of networking or even just finding a companion with whom to share a post-exercise smoothie. Some may view it as an alternative form of speed dating, but let's not go there. Well, not now anyway.
Once you feel all those muscle groups gently relaxed, take a little extra time to rest on the mat, either on your back or side, and let yourself mentally drift for up to five minutes. Perhaps reflect on the workout you've just completed and what you've achieved. Of course, you'll be feeling very pleased with yourself and delighted that you fought off any temptation to skip the session. Use that positivity next time your motivation is low and you'll be on the way to making exercise an integral part of you life.
You might also like...