Tips for Avoiding Injury When Exercising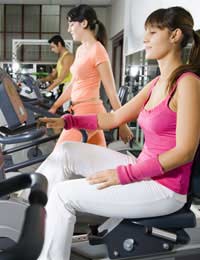 Why is it that injury clouds the opening few weeks of so many new fitness programmes? Quite simply because many individuals fail to look and listen to what their instructor is telling them or if training from home they try to do too much too soon.
Remember that while enthusiasm is essential for ensuring you not only start working out but continue doing it, over-enthusiasm can be counter productive. It may have been several years since you placed any real physical demands on those muscles and joints, so don't expect them to snap back into shape with just the click of your fingers. They are going to have to rebuild from the bottom up. And, yes, while a world of hurt awaits as they pump and stretch like never before, you don't want that hurt to escalate into outright pain and injury.
Energy Levels
So how to prevent yourself being laid up just when you were in the first flush of renewed energy levels? Well, for a start do not neglect your warm up and warm down routines. No time to do them? In that case trim off some of your exercise period and make time. Running, jumping, cycling or swimming when "cold" i.e. without having completed stretching exercises means you are leaving yourself open to muscle pulls and tears that may put you back several weeks at least. Dashing off at the end of the session without a warm down means you'll be facing the prospect of stiffness and aches and pains two days later. Why make things difficult for yourself for the sake of 15 minutes at either end?
In terms of your exercise programme, build up fitness and flexibility gradually. There are no shortcuts. Yes, you're all too eager to fit into that pair of pants or get ready for the beach, but muscle tone is not something that happens overnight. It is a natural process, and this takes time.
One way to avoid impatience with your schedule is to buddy up with someone who has a similar level of fitness. The companionship and mutual support will make sessions less boring and help both of you to track each other's progress more effectively. Don't be shy in allowing yourselves the occasional spot of pampering, either. An hour on the masseur's table may seem rather indulgent, but it will be mentally relaxing, and those poor muscles of yours will be grateful and pay you back with good performance next time you get moving.
Muscle Strain
Always be aware of what your body is trying to tell you. If you do succumb to a muscle strain, ensure that you allow adequate time to recover. On no account attempt to exercise through the pain barrier because that has the potential for making an injury much worse, and consequently the eventual recovery time much longer. And don't make false economies and decide against a session with the physiotherapist. Yes, their advice costs money, but it can be well worth it. They will be not only able to identify the problem, but in many cases will be able to identify why it has happened. Perhaps, for example, you are not performing particular exercises or routines properly? This will mean you can make the appropriate adjustments and avoid a repeat of the problem.
You might also like...