Body Knowledge and Common Exercise Injuries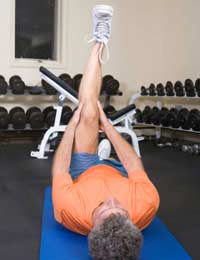 It may be so long since you put your body through a serious workout that you've lost a great deal of awareness of how it functions. Needless to say your new exercise regime will quickly remind you when an ache here or a slight twinge there reminds you those muscle groups are finally back doing what they do best – getting you up and on the move.
Now that you are back in touch with your physical being, it is important to keep listening for signs of distress that are the result of overdoing it with exercise , or failing to warm up or down properly.This is not to say that following the correct procedures will result in no discomfort. It may well be a long time since you and your body became so intimate, so the shared experience of exercise is bound to come as something of a shock. So don't worry about a little aching of the limbs – that's just your body wondering whether it might be better to go back to lazy Sunday afternoons in the company of tea and biscuits.
Problems With The Achilles Tendon
However, you do want to sit up and listen to your body if the pain you are experiencing is, for example, a persistent ache in the Achilles tendon or pain or stiffness in the thigh following exercise. Be wary of any problem with your back, too, while shoulder discomfort can be a warning that your enthusiasm is getting the better of you and you're completing one too may reps with the free weights.
Remember that you should never ask your body too many questions, too soon. Ease it out of the sedentary lifestyle you've both shared for far too long, and ease it in too regular exercise. Follow this path and you'll be surprised how quickly your body both adapts and improves. Soon you'll be reaping the rewards that will encourage you to get better and better. But keep that enthusiasm in check, follow your programme and don't overdo it.
Enjoying The Extra Rush Of Adrenalin From Exercise
If you really can't resist that extra rush of adrenalin, then settle for a relaxing warm down via a few lengths of the swimming pool. The water will support your body and relax your limbs, rather than add stress or strain that may result in injury
So many people who start a new exercise regime quickly succumb to a muscle pull or a ligament problem because they overdo it. And that injury may have consequences more serious than a few days in a knee support – it could result in you losing the momentum that you built up in order to get started in the first place.
If it's a more serious injury, that means you're out of action for a length of time that could ruin all the good work you had done up till then. The solution? Know your limitations, and communicate frequently with your instructor or personal trainer. Most importantly, keep listening to your body, because you are in this great adventure together; you rely on each other. Get it right from the start, and you'll both enjoy the benefits.
You might also like...