What Equipment Will I Need?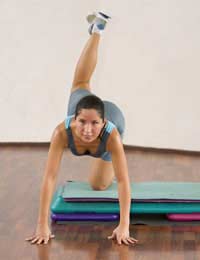 The old slogan that a puppy is not just for Christmas has its modern-day equivalent in the gym membership. All those good intentions brought on by looking in the mirror on Boxing Day have usually dissipated before February has arrived.And not only is the membership card destined never again to see the light of the day but there is that rack of expensive kit and shoes that need to be shipped to the nearest charity shop, too. What a waste of money.
If you are serious about your new exercise regime and committed to its long-term goals, then there is going to have to be a certain financial commitment. But don't be tempted into the same trap as the faint hearted who believe gyms are about seeing and being seen rather than doing.
You don't have to be wearing the latest sporting designer logo to enjoy both the physical and emotional benefits of exercise; rather, you want hard wearing and hard working items that will work with you in the gym or exercise class.
Breathability and Flexibility
For both men and women, that means tops and bottoms manufactured from fabric that will offer both breathability and flexibility so that your movements are not restricted. The fabric ideally should have a wicking effect, too. This means that rather than sweat remaining on the skin, it is transferred through the fabric to its outer layer where it can easily evaporate. This effect will mean you won't suffer chafing in delicate areas while remaining cool and dry.A good gym set should be appropriate for a wide range of disciplines, so however many combinations from the curriculum you build into your weekly routine, from simply running on the treadmill, to enjoying a Step or Pilates class, you are fully prepared.
Maximum Support
For women, this means adding a sports bra to the kit bag. Ensure that it is a perfect size and offers maximum support. This means buying from a retailer who provides a fitting service. A bra that is too tight will cause discomfort and detract from your enjoyment; too loose and you won't be getting the support that you require.
Correct fit is also essential for your sports socks. You don't want them slipping under your heel just as the class routine comes to a climax.
As well as your classroom kit, invest in a tracksuit so that when travelling to and from the gym, or sitting in the coffee bar after a session, your body cools down naturally via that extra layer rather than becomes too cold, too quickly.
So to the shoes. The range on offer is bewildering, both in terms of style and price. Again, don't simply be seduced by the logo or the manufacturer's name. Try on a selection until you find the pair that offers maximum support and comfort. Ensure they provide plenty of toe space to eliminate the danger of pinching and that the cushioning properties will spare both your ankles and knees from the buffeting they would otherwise receive during higher impact classes.
If your exercise regime is going to plan, you will have to revisit your clothing on a number of occasions because your body will be changing shape through weight loss and toning. Shoes, too, will need to be changed at regular intervals as impact will mean a decrease in their cushioning ability.
Ensure that you get value for money and if possible buy clothing in threes so that as your weekly regime intensifies, you do not have to turn on the washing machine simply to ensure you have fresh kit available for the following day's workout.
You might also like...