What is Tai Chi?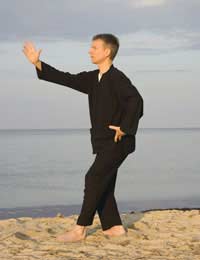 Ask many Westerners what they expect to see during a television report from China and they'll probably describe an intriguing wide angled shot of a misty early morning Beijing park peopled by hundreds of individuals practising, slow, smooth, rhythmic movements with their limbs. If you are one of these people, and were intrigued by what you were watching, the answer is Tai Chi, or Tai Chi Chuan.
Just the mention of the words martial art are enough for some people to conjure up images of loud and aggressive combat routines that involve physical feats that are beyond the abilities of all but a tiny minority of athletes. Tai Chi is an art, and there is both an offensive and defensive aspect to it. However, there is a much gentler, reflective side to it, too, and it is this which many people have tapped into in order to bring both physical and mental renewal into their lives.
Slow Continuous Movements
What you are seeing in those park scenes from Beijing is the Hand Form of Tai Chi. Not only do those slow continuous movements tone up the entire body but they promote good breathing and consequently a more relaxed and happier mind. The body becomes more flexible, suppler, removing all those blockages that have resulted in poor posture and areas of pain and tension.
Because the Hand Form is a relatively gentle form of exercise, it means that Tai Chi will appeal to and benefit a large cross-section of the population, from children through to seniors and pregnant women who are not able to take part in more vigorous or high-impact activities.The main piece of equipment needed is your own body, so the art can be practised in any number of situations, from a dance class studio to the home, the office environment as well as the aforementioned public park. Time of day is up to the individual. Some prefer a morning session because they feel energised afterwards and ready to meet the challenges of their job in a mentally calmer, physically more relaxed state. Other feels that it is the perfect way to unwind at the end of the day and promotes deeper, more satisfying sleep.
Yin and Yang
At the heart of the art is the principal of Yin and Yang, of a universal balance, for example between heaven and earth, between sitting (Yin) and standing (Yang). The Tai Chi movements mirror this philosophy, flowing effortlessly from one to another, just as night (Yin) follows day (Yang).
It is likely that your gym will either offer classes or have contact details for a teacher posted on the club noticeboard. Also check with your local community centre as they may run classes for all ages and abilities.
In common with all exercise disciplines, reaping the benefits of Tai Chi involves investing time and effort to both understand its principles and how to put these principles into practice. You'll soon realise that those who remain baffled by those television pictures from Beijing are missing out on Tai Chi's very real benefits.
You might also like...