Joining a Pilates Class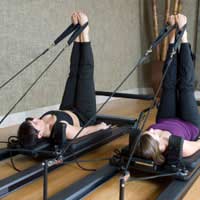 Let's face it hi-energy dance and weights routines are not for everyone. Take pregnant women and senior citizens as the two most obvious examples. Perhaps you can add young children to the list, too.
So where do you turn for an alternative? Well, how about Pilates? Yes, Madonna does it. Julia Roberts, too, apparently. But forget the famous faces that the programme has attracted in recent years. And as for those ill-informed giggles about New Age beliefs and spiritual exploration, you can leave them at the door to the classroom. This is no metaphorical stroll in the park.
What we're talking about is a discipline that aims to maximise your strength and flexibility, improve co-ordination, correct bad posture and reduce stress. In short, you'll become so much more aware of your body and, therefore, better able to use it efficiently.
Fitness Curriculum
You will find Pilates taught at both gyms, as part of their fitness curriculum, and specialist centres. For those who are too self-conscious to contemplate participating as part of a large class, the good news is that both individual and small-group tuition is available, although the latter is likely to cost a little more money.
The concept was born out of the rehabilitation work carried out by the German-born Joseph Pilates on First World War soldiers recovering in a hospital on the Isle of Man. His reputation was enhanced after opening a dance studio in New York City in the 1920s.
Today's curriculum involves stretching and conditioning routines that target the core strength of the individual. In layman's terms, this means the spinal muscles and the flexibility of the spine, along with the abdominals and pelvis, resulting in greater flexibility and muscle tone. For those who spend long hours at the office desk, it is likely that poor posture will have led to back pain. By teaching the student the fundamentals of spinal alignment, not only will this pain be alleviated but they will be able to interact in the office environment while keeping good posture.
Stress relief is another important area - the student will discover how breathing can target this by-product of modern living and improve their mental state.
Mat Exercises or Machines
All this is achieved through either mat exercises or using one or more of the specially designed Pilates machines, such as the sliding platform and rope attachments known as the Reformer, or the cage frame and padded platform that make up the trapeze table known as the Cadillac.
If you find that your gym does not run a Pilates class, it is a good idea to contact the Pilates Foundation, which can help you find a teacher in your local area. The foundation's website also incorporates a search facility for both practitioners and studios in the UK and around the world.Needless to say, it is important to check the credentials of a prospective teacher before booking a class.
In common with all health and fitness programmes, you will only get out of Pilates what you are willing to put in. But given the physical and psychological benefits that can be gained, motivation is unlikely to prove a problem.
You might also like...