Yoga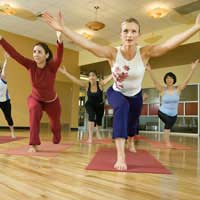 Stress reduction better posture, relaxation through improved breathing and more defined muscle tone are the promises of a holistic class such as Yoga. The aim of these types of curriculum, which can also include other disciplines such as Pilates and Ta Chi, is to address the body as a whole and improve its constituent parts. Indeed the term Yoga derives from the Sanskrit word describing the union between mind, body and spirit.
Within the umbrella term Yoga, there are a number of sub-categories, such as Astanga and Iyengar which involve more vigorous workouts as well as the gentler, lower impact benefits of Hatha and Anusara. This means that whatever the fitness levels of an individual, there will be a form of Yoga that is suitable for them. Even those with joint problems, diabetes, raised blood pressure or a heart condition can join in.
Physical and Emotional Wellbeing
So what is involved in a class? At both the beginning and the end, the Yoga equivalent of a warm up and warm down comes in the form of relaxation, including breathing techniques, to restore both physical and emotional wellbeing. The main body of the session will involve limbering up to prepare the individual physically for the posture exercises known as Asana. A combination of stability (stira) and relaxation (sukha) is used to both strengthen and tone the body as well as improve the flow of energy through it. Breathing exercises involve the control of prana (vital energy) to ensure that the cardiovascular system operates as efficiently as possible, therefore alleviating stress and bringing a greater feeling of control over all aspects of the physical and spiritual being.
A period of meditation may also be built into a session. Those who have not tried it before may be inclined not to take it seriously, but relaxing and concentrating the mind, for example on a single object in the room, can prove particularly beneficial in bringing another layer of calmness and control.
In terms of equipment, the only requirements are gym wear manufactured from material that will stretch with your movements to allow total freedom. You may also need a non-slip mat, although many studios and health clubs supply these.
Structure of the Session
Ensure that you speak to the tutor prior to booking a class so that you are aware what the session will involve. If you have any specific medical condition that would impact on your ability to fulfil a particular discipline, be sure to mention this also. It will not necessarily preclude you from joining the class, but it will allow your teacher to take it into account when designing the structure of the session so that it is inclusive.
As an introduction to Yoga, it is a good idea to take some of the more low-impact sessions in order to gain an understanding of the physical and mental disciplines involved. If you then feel you want to put greater emphasis on posture and muscle tone, you can then graduate to one of the more energetic forms. Yoga can also be incorporated into your existing gym schedule, too, to add stimulus and variety to the active side of your life. At the very least, exploring the system provides a fascinating insight into an ancient art that has attracted devotees from around the world.
You might also like...