Hiring a Personal Trainer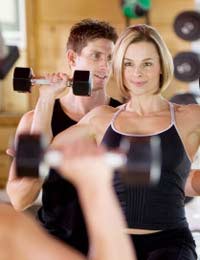 Forget the exclusive tabloid summer diets that are guaranteed to shave an inch off your waist in a week, or the thought of opting for one of the weight-reducing medical procedures that are only guaranteed to bring most people out in a cold sweat. The fact is, if you want to lose weight, tone your body and, as a result, achieve greater health and fitness, good old fashioned exercise is the only way to go.
Unfortunately, not everyone has the iron will needed to stick to the strict regime that will deliver maximum results, and that's where a personal trainer comes into play. But it's not just about hiring yourself a little more motivation: personal training professionals are there to ensure that you follow the correct technique in order to achieve maximum results and avoid injury.
They are also there to listen, to understand what you want, what problems you are experiencing, and in needed to adjust programmes and schedules to ensure that your exercise sessions are effective, safe and, dare we whisper it, fun.
Discuss Your Goals
Word of mouth is always quoted as a useful guide when you begin the process of finding a personal trainer. But don't forget that clients and trainers don't automatically hit it off. A friend or colleague may have a great relationship with a trainer that you simply can't warm to. So before you book a taster session, meet up and have a chat with a trainer, and discuss your goals. This should give you some idea whether this is the professional to take you to the next level.
Never forget that while the personal trainer is in charge during sessions, you are the ultimate boss. If at any stage you feel progress isn't being made, or your relationship isn't working, don't be afraid to opt for a quickie divorce and start looking for an alternative coach. After all, individual sessions cost around a minimum £20, so value for money is very important.
Diplomas or References
Qualifications are, naturally, a key indicator of a trainer's suitability. So don't be afraid to ask to examine diplomas or seek references: a good trainer will have no problem with this because they don't want doubts creeping into a client's mind before the hard work on the exercise mat has even begun.
Ideally, your prospective trainer will have completed courses in a number of different disciplines, so that as well as low- and high-impact routines, they can also introduce a more holistic approach through Pilates or Yoga sessions. Physio and first-aid skills are a must.
Of course the best trainers are always booked up, but you want to avoid those that are chasing the money to the extent that they have taken on too many clients. There is nothing worse than opening the front door to a trainer that is already almost out on their feet because they have been up fulfilling bookings since dawn. This will only minimise what you are getting out of the session because it is unlikely the trainer will be concentrated on you and what you are attempting to achieve.
While clients should always err on the side of caution during the selection process, once they are confident in their choice of trainer, they should allow the professional to get on with the job of improving both their fitness and health. A well planned, well focused programme will mean you are allowed the odd indulgence that no doubt is banned under those newspaper wonder diets. Mind you, who believes anything they print in the tabloids?
You might also like...