Building A Good Relationship With Your Instructor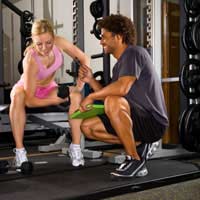 The key to a good working relationship between you the student, and your instructor is to keep it relaxed and informal without forgetting that you are there to learn and enjoy yourself in the process.
From the very start, you've got to know exactly what you want out of a particular class. Yes, taster sessions are exactly what they say they are – a chance to sample a discipline and see whether you enjoy it. But once you have decided that you want to follow a particular class, you've got to commit yourself to it. How else is the instructor going to impart their knowledge if you are not receptive to ideas?
There is no more frustrating aspect of an instructor's job than class members who don't listen to their cues, or spend too much time giggling and not enough taking instruction. Never mind, those thankfully rare students who choose to turn up for a session late and expect the rest of the class to start again. And if that frustration on the part of the instructor is the result of your behaviour, then we've got ourselves a relationship that is breaking down almost before it's had the chance to develop.
The Social Conversation Between Instructor And Student
For those who are eager to learn and hang on every word of their instructor, it shouldn't be forgotten that the teacher is human, too. So when you're doing some abdominals or warming down, why not strike up a social conversation, for example about good restaurants or films at the cinema. This sort of interaction helps both instructor and class member relax, and this in turn means communication will become easier and, therefore, more enjoyable.
Don't be shy either when it comes to talking over problems you may be experiencing with a particular section of the class, or perhaps a slight niggle that is preventing you putting in 100 per cent. If the instructor is unaware of any problem, they will not be able to begin addressing it; worse, they may feel your perceived lack of effort is due to a lack of motivation or respect for their abilities as a communicator.
The Instructor As A Sounding Board
Forging a good understanding will pay big dividends for you as a student in terms of future development because you can use your instructor as a sounding board as to how you should be developing the skills that you've learned in their class. They should be able to recommend a particular discipline to try. And you can bet that they'll be telling your prospective new instructor all about you. Depending on how well you communicate, the instructors' chill-room may ring to the sound of people singing your praises. Of course, there's always the chance your name may be mud in there, and getting yourself a reputation as the bad boy or girl of the class is never a good idea.
Ultimately, nobody is suggesting you start bringing in an extra slice of carrot cake for the instructor. After all, you don't want your fellow class mates thinking you're trying to gain some unwarranted favour. Just remember that you are investing both time and money. If you want to spend both as productively as possible, then working with your instructor is the only way forward.
You might also like...