Visual and Verbal Communications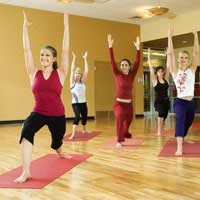 Walking out at the end of a class feeling that your pupils have really got a buzz out of the experience represents a real high for an instructor. There won't just be the knowledge that you are making progress but also the satisfaction that your powers as a communicator are making a big difference.
The flip side of this is the instructor who feels they've lost their class. Not only are individuals struggling with the drills but motivation seems sadly lacking. Of course every instructor is going to come across the occasional problem pupil who just doesn't want to listen, but in the majority of cases, the problem is definitely of your own making. You've got to be big enough to recognise this, and address it quickly.
Teacher-Pupil Relationship
The basis of a successful teacher-pupil relationship is dialogue, in order that the flow of instruction from one to the other is friendly and unambiguous, and the same is true of feedback.
Start every class by introducing yourself and setting out the structure and aims of the day's curriculum. Remember, too, that if there are any members attending for the first time, that they are welcomed into the group with a friendly introduction. Don't make any in-jokes that damage inclusiveness, and ensure during the course of the drills that you don't single out new members too much, otherwise they will become self-conscious and less receptive to your ideas.
Before and after class, always make yourself available in case individuals have problems they would like to address. This two-way flow of information and ideas can also be accomplished during the warm-up or warm down. You've got to be authoritative but approachable: talking points over with pupils can give you a valuable insight into how the class is being received and may illuminate areas where improvements could be made that would benefit everyone.
Impatience With a Pupil
Visual communication is equally important. Take, for example, the failure to disguise impatience with a pupil who just doesn't seem to grasp even the simplest of movements. Not only will that slight scowl or grimace have a negative effect on the individual concerned, but the rest of the class may react in a negative way also. You've got to be patient and, above all, understanding. Retain a receptive, open body-posture at all times, and keep eye contact with as many pupils in turn as possible. The same is true after class, too. Be friendly, but not too friendly. Remember that a sympathetic arm on the shoulder may be interpreted differently depending on the individual; to one it may seem over-friendly or threatening, too another a signal of welcome personal interest.
The role of teacher is a learning process in itself - the more experience you gather, the better you will be. As situations arise, they will be easier to deal with if you can draw upon previous incidents, either positive or negative. There will be difficult times when you question your ability. When these occur, remember those smiling faces from past classes. You couldn't have been doing much wrong then, so get out there and do it again.
You might also like...