What Qualifications do I Need?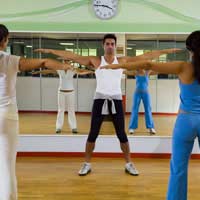 Do you enjoy staying fit and healthy? Well imagine translating that passion into a career that will not only earn you a living but also help many other people benefit from your knowledge and enthusiasm, have fun and improve their life in the process. Sounds like the definition of job satisfaction.
However, you should put some thought into what the job of an instructor entails before taking the plunge and making the commitment in terms of time and money to a training course. For a start, the gym will no longer be solely about you and your time; rather, the welfare of the members and making the best use of their time will be the priority. You'll have to be well organised, too.
Why not approach the staff at your own gym and ask their advice. They will be able to outline exactly what you would be committing yourself, too. Enquire also about the qualifications that they hold, and any courses that they would recommend. It may be that the centre offers apprenticeships that will mean you can study for your certificates while gaining on-the-job experience.
Nationally Recognised Diploma
Supplement these enquiries by carrying out some research of your own. There are many organisations that offer training, and the choice can be bewildering. Contact as many as of these colleges as you can, and don't be afraid to get all the answers you require to make an informed decision. For a start, you should be looking for one that offers a nationally recognised diploma for the simple reason that this will give you the best chance of landing a job when you have qualified. So enquire whether on graduating you would be eligible to apply for entry on to the Register of Exercise Professionals - the UK system which aims to ensure best practice within the industry. The REP website also includes a section listing contact details for approved training providers.
Full-Time Timetables
In the UK, an initial point of contact is Learn Direct (http://www.learndirect.co.uk), the government-backed education body that offers courses across the country towards a National Vocational Qualification (NVQ), including those for fitness training and sports training. These can range from full-time timetables to evening and weekend courses designed for people who want to pursue their studies while holding down their existing job. In many cases the awarding body will be Central YMCA Qualifications (http://www.cyq.org.uk). It is part of Central YMCA, the UK national charity dedicated to health and fitness education. CYQ has also been designated by the Fitness Industry Association (http://www.fia.org.uk) to monitor the performances of leisure clubs in meeting the association's own code of compliance.
Always keep in mind that the learning process never really ends, and experience will be equally as important as theory. The best instructors are those who never think they know it all, or take their position or their students for granted. Remember why you started out on the road to becoming an instructor in the first place. And now you've reached your goal, never forget how lucky you are to be doing the job that you love.
You might also like...