Using a Fitball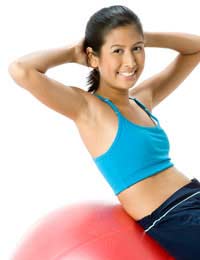 You may not have appreciated tearing off the wrapping to find that someone had bought you a FitBall for Christmas, but now that the worst excesses of the festive season are well and truly settled on your hips, stomach and thighs, perhaps you will begin to realise how important a role it could play in getting you back into shape.
Sports club members will be all too familiar with the FitBalls that are a regular feature in most gyms. They are integral to the circuit training routines of many people, and can be used to achieve a range of toning and fitness goals. Think, for example, of the core exercises that so many personal trainers swear by. The areas targeted are the abdominals, the lower back, hips and thighs, and are referred to as the core simply because they provide a solid, efficient platform from which the rest of the body can perform to its maximum potential.
Not only will exercises utilising a Fitball lead to greater toning and strength, they will promote better posture that, in turn, can have positive benefits both in terms of stress relief and cardiovascular efficiency.
Added Benefits
Yes, you may say, but sit-ups, press-ups and curls can all be performed without using an exercise ball. Very true, but it is the instability of the ball that brings added benefits because the postural muscles are having to constantly work, making small adjustments in order to ensure you are balanced.
Talking of balance, it is very likely that your first few attempts at using a ball may result in you falling off. So ensure that it is positioned on a suitably cushioned surface to ensure you don't land with a bump. Better still, book some sessions with a professional trainer who will be able to show you how to use the equipment correctly and safely.
A trainer's input is also invaluable in ensuring you have the ball that is suitable for your height - there are a number of colour-coded sizes available, ranging from the yellow models for those five feet and under, to the red designed for people six foot, four inches and above. If you have a ball at home, ensure it is of the same size as the one you are using in the gym. (They usually retail from £10 to £15 and can be found at high-street sports retailers as well as many suppliers on the internet.)
Burst-Resistant Material
Making the most of your FitBall sessions comes with confidence. Don't worry, for example, that it is likely to explode underneath you – the burst resistant material ensures that won't happen – and if a puncture does occur, the design means it will deflate gently to prevent injury. With those understandable fears allayed, it is simply a case of listening to your trainer, relaxing and allowing your body to interact with the ball.
Despite the well documented benefits of using a FitBall, too many of them in the home still end up being using as oversized footballs or makeshift trampolines by younger members of the family. But why let the kids give them the boot when using one for what it was designed for could deliver the toning goals that you so desire. So pump it up, and set the ball rolling on a programme that will result in a brand new you.
You might also like...