Targeting Your Hip Area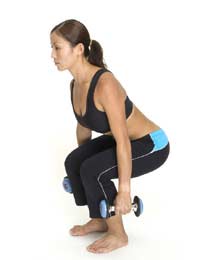 The old putdown that someone's indulgent lunchtime pud has gone straight to their hips is more often than not directed at women, not least because whereas the male of the species tends to store his culinary moments of weakness around his stomach, females tend to pack it on below the waistline. Well, that's the general opinion, anyway.
In reality, all individuals are different, both in terms of weight gain, and where that excess weight accumulates. The bottom line, if you forgive the pun, is that this should not be allowed to happen. Excess fat and, consequently, excessive weight is unhealthy.
Once an individual has grasped this simple concept, and understood the implications of being overweight in terms for both their short- and long-term health, it is not just a case of altering lifestyle and diet in order to shed the excess; toning those areas that have had to bear the excess burden is also important. In the case of the hip area, you want to erase the tell-tale signs that the saddle bags were there in the first place.
Relax Between Each Stretch
You shouldn't need reminding that any toning session should be preceded by a warm up in order to stretch the body out of its lethargy and guard against injury. If you did, then take that as a friendly warning.
Down on the mat, resting on your left side, using the lower part of your left arm to prop yourself up. With your right arm relaxed and running down the side of your body, slowly lift you right leg six inches in the air, hold for 10 seconds, then slowly let it descend back to the original position. Repeat this drill five times, taking 30 seconds to relax between each set of reps. To work the left side of your body, simply complete a mirror image of the above.
As you feel the muscles tightening and becoming stronger, you can increase the number of repetitions of this exercise, but don't overdo it. Rather build up in unison with exercises targeting other areas, such as the quadriceps (the big muscle at the front of each thigh). Fixating on your hips is only likely to result in you putting to much pressure on this area and risking injury.
Using a Wall For Support
Squats will also help work the hip area. Using a wall as the support for your back, with your feet positioned below the shoulders and about one foot away from the wall, lower your upper body towards the floor by bending your knees until you are almost in a seated position. Repeat this drill between five and 10 times, take a one-minute break, then complete another set of reps.
Ensure that you keep your back straight and flat to the wall by pushing your lower back into the wall. As you become stronger and more flexible, the addition of some handweights will work your hips and thighs that little bit more. Again, don't overdo things, and always ensure you follow correct procedure.
If you are interested in adding a little more weight training to your hip routine, it is advisable to ask one of the trainers at your gym to work out a balanced plan and guide you through every step of the routine. Injury happens all too often because individuals are too impatient to achieve results or do not take the time to learn the correct way to execute a particular routine.
You will know when you are doing the right things, because results will quickly come. And once you have your lower body back in shape, there'll even be the odd occasion when you can order that pudding without any worries that it will go straight to your hips. And why not? You deserve it after all that hard work.
You might also like...