Benefits of Treadmills, Bikes and Cross-Trainers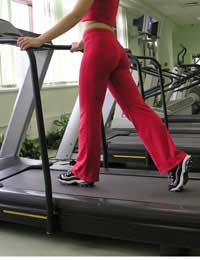 The sight of those rows of machines populated by exercisers in mid routine headphones wrapped around their heads and eyes fixed on the TV screens suspended in front of them can be rather an intimidating introduction to the world of the gym. Especially if your stare is returned by a number of glances of superiority from those whose self-body image is rather more Olympian that the reality.
But hey, while this is not an arena for the fainthearted, it does represent the first test of your resolve. And those machines can be damned useful, either by providing an alternative workout or as a way of warming up before a class.
Don't let those confusing displays and rows of buttons put you off, either. If a personal trainer or attendant hasn't explained them as part of your induction, then simply grab the nearest one and get them to run through the programmes that are available. On no account stand there pressing random configurations in the hope it will get the thing moving – you'll only attract yet more pitying glances from those working up a sweat nearby.
Low-Impact Workout
For those who hate nasty surprises, here's a brief rundown of the main machines and what they can do for you.
Let's start with the one that offers the most comprehensive workout: the cross-trainer. It features large handles and footplates that are designed to offer a low-impact workout for both the upper and lower body together with improving cardiovascular function. In common with all machines, there will be a range of programmes based on different resistance and speed levels. Cross-trainers can be the most difficult machines to get used to – some people dislike the initial sensation that comes from having to develop a rhythm between hands and feet – but they can prove a useful tool.
Bikes, too, offer an aerobic workout that is low-impact in nature. However, the majority of the work, naturally, is done the lower body. Individual models may be either upright i.e. handlebars forward of the seating position, or recumbent, with the bars either side of the seat. The latter can be particularly useful for people with back problems or who are worried about the potential stress on that area from using an upright bike.
Speed and Resistance
Finally, the most familiar of the three machines, the treadmill. Although belts offer a lot more cushioning these days, your muscles and joints will be asked more questions in terms of impact. However, the amount of stress is negligible if you are only using a speed that provides a warm-up through brisk walking. Of course, you can graduate to running using the speed and resistance features, and utilise the built-in heart-rate monitor to keep an eye on how hard you are working.
These three main machines are supplemented in many gyms by rowers and power, or vibration, plates. But it can be counterproductive to become over-reliant on them. It is true that some people enjoy the solitary nature of the machines but equally, many others find them rather isolating and thus a disincentive. But all of them constitute a useful tool in your overall toning programme. Just remember that building group participation into your routine will provide the variety and stimulus to help you develop faster.
You might also like...