All About Salsa Classes: Tone Up and Have Fun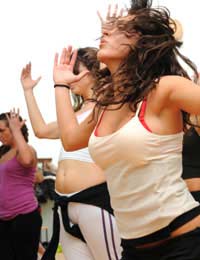 What deters so many people from taking the plunge and signing up for a health club membership? All too many say that it is the thought of all that sweating and grunting, not to mention the stifling competitiveness that some superior members exude on the weights machine or in the BodyPump class.
With all that adrenalin pumping, many would say this represents healthy competition, rather than the more negative form. Nevertheless, it can be off-putting for many.
This is why the introduction of classes such as Pilates, Tai Chi and Salsa over the last few years have brought a new dimension to going to the gym and, as a consequence, drawn in a fitness audience who otherwise would run a mile rather than find themselves in a locker room.
Moving To The Rhythm
In essence, Salsa is about moving to the rhythm of Latin music, emersing yourself in the drama, sensuality and joy that makes it one of the most popular sounds around.
Of course the name evokes images of tightly toned Latin ladies and gentlemen inhabiting costumes that the majority of people can only dream of squeezing into, but this is no reason not to step on the floor and give it a try.
After all, it is unlikely that you will find yourself in line at the beginners' class in the company of such Latin lovelies; more likely they will be Mr and Mrs Average, simply eager to reap the benefits of the class, so there is no reason to shrink into the corner, or slink out of the building because of a crisis of confidence, or simply low self-esteem.
So what are the benefits of the discipline in terms of fitness? Well, the well-toned bodies of Salsa experts are a reflection of the all-over body workout that the dance moves will provide. It may all look smooth and effortless on the surface, but underneath the muscles will be working away to keep upper and lower body in sync, while the cardiovascular system will be given plenty to think about, too.
All that adds up to the potential for some pretty serious calorie burning. And the more body fat you burn, the quicker those leaner and increasingly toned muscles underneath will begin to be visible.
Passionate Nature
The passionate nature of Latin music, combined with the aerobic workout, will mean that it won't be long before everyone is getting hot and at least a little sticky under the collar, which is a reflection of why Salsa has become so popular: it provides an excellent workout while having lots of fun, which means the hour-long session will fly by.
Once you have found your feet, and let's face it everyone takes a few lessons to get in the swing, then it's a case of taking Salsa to the next level, honing both your skills and your fitness at the same time. So if you are losing the will to live, or just plain bored, pounding away on the treadmill or exercise bike, or finding the more adrenalin-based classes a little too in-your-face, why not opt for a more melodic way to better health and happiness.
Toned Body is sponsored by Purely Energy, who have funded a lot of our content. If you are looking for a low cost business energy supplier, take a look at their website.
TONED BODY IS FOR SALE.
This website is for sale [more info].
You might also like...