Toning Tables - Pros & Cons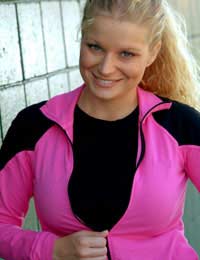 There are a range of toning tables on the market some more sophisticated than others and offering a comprehensive number of programmes. Toning chairs are available, too. And there is no doubt that they can make a valuable contribution. But before discussing whether using one is going to address your needs, let's be clear as to exactly what they do.
Through a set number of movements that target the upper and lower body as well as core areas such as the back and abdominals, a table will work muscles that are no longer put under pressure as well as realign the posture of an individual. In addition to the benefits of greater muscle tone that will be achieved, circulation and flexibility will also improve.All these movements are completed without impact on the body as a whole or strain on an individual area.
Mobility Problems
Some people invest in a machine that can be used in the comfort of their own home; others either through a lack of funds or because of different financial priorities prefer to pay for sessions either individually or in blocks at a gym or leisure centre. The latter option may be fine for those without mobility problems; for those that have such problems, the financial strain of investing in a machine may be more than off-set by the time and discomfort involved in getting out of the house and to a public facility.
So is a toning table going to prove a valuable tool in your exercise regime? Certainly, people with mobility problems as well as individuals who are precluded from more vigorous or high-impact forms of exercise due to joint or heart problems.
A table can also be a useful tool for athletes, either amateur or professional, who are in rehabilitation following an injury. Even if movement of the affected area is not recommended during the early stages of recovery, at the very least a table can blow away the cobwebs from other areas of the body that will be feeling the effects of temporary inactivity.
Gentle Workout
What about individuals without health issues or injury? Initially, it may appear that a table is of little or no use to them as it won't offer the cardiovascular workout and high calorie burn that they will be looking for. There won't be any adrenalin rush, either. However, as a way of warming up or down, or simply providing a gentle workout that benefits the mind, a session on a toning table can be valuable. Even if it is only a good night's sleep that is the aim, the table can be prove very useful.
Toning tables require little in the way of special clothing. Just ensure you have comfortable clothing that has some flexibility built in so that it can move with your body as the machine manipulates each area.
In common with all exercise machines, it is essential to get a good tutorial on how the machine is operated and the programmes that are available. This will not only be important simply from a practical point of view but it will also ensure that you can gain the maximum benefits from using the table.
You might also like...
There is a ladies Gym near my home with toning tables. I use it 2 x week. Great way to stay mobile and lose inches
Jayneba
- 30-Sep-17 @ 10:03 PM
Do you know of any toning tables in the Peterborough Spalding area please
Frenchy
- 17-Jul-17 @ 2:09 PM
Any toning tables in the Wigan area
Mel
- 17-Jun-17 @ 6:56 PM
HI, I am looking for a salon that has toning tables near me SW19 Wimbledon. Does anyone know of one?
Jo
- 18-Apr-17 @ 10:25 AM
I have used the Toning Tables for the last 5 years. I always felt stronger and more toned. The business came up for sale and 2 weeks ago I bought it. We have lovely ladies and I want to grow the business. Our cardio has 4 chairs, one treadmill for power walking and 4 tables for stretching. We also include a circulation vibration. It is a great workout for people who do not want a gym environment. If you have injuries with knees, back etc, it is perfect for movement.
Toner
- 17-Apr-17 @ 8:15 PM
After seizing up after another back relapse nrly 5 years ago.I went to a very very well detailed and advised pain management class.Which has led me to toning tables on my own initiative. Which is a very big deal to me. Anyway. For me. 3 wks later. I feel stronger. More supple less fragile and scared. And wanting more.Fingers crossed.
Bic - Your Question:
Yrs ago I tried toning tables loved them went from a size 24 to a 18 in under 6 months. The place went out of business. I was wondering if you know of any place near Oshkosh or Green bay Wisconsin area that has them to use ?
---
Our Response:
We're uk based unforunately. Have you tried Google or Facebook to find a local one to you?
TonedBody
- 24-Feb-17 @ 10:02 AM
Yrs ago I tried toning tables loved them went from a size 24 to a 18 in under 6 months . The place went out of business. I was wondering if you know of any place near Oshkosh or Green bay Wisconsin area that has them to use ?
Bic
- 21-Feb-17 @ 3:46 AM
I used toning tables 3 x per week for 11 weeks and dropped 1.5 dress sizes. Although I didn't lose weight I was fitter and more comfortable than I'd been for a while. I used them regularly to keep up my fitness but sadly during a period when I couldn't get to the salon, it closed. Wish I could find a salon or gym near me or if I could fit one in at home, I'd use one every day.
Callie
- 13-Feb-17 @ 4:22 PM
I suffer with bad knees n found gym to much strain on them but been back about a week as not been for months due to working hours etc and in this past week my knees are less painful n i am sleeping better . Hope to see weight loss as well in time we will see ??
Lili
- 9-Feb-16 @ 8:23 PM
I started using Toning tables aroud 3 yrs ago. not for weight loss. but for movment reasons. and I have to admit I can move around beter. I have not found anywhere that have up to datefull body toning tables yet, Only gym's that keep saying they are going to replace there machines with them.They are £60.00 a month. and if I could find a good second hand full body toning table I would get myself a shed in the garden and use it everyday.My GP says they shoulld be on prescription, as if patients had the use of them he would not need to fill them full of medication.He has seen improvement with the patients that use them.They do not order as much pain releif medication as they once did.So if there is someone out there who has a toning table that is taking to much room, and would like too find it a new home.I would love to here from you.
Julia
- 11-Aug-13 @ 5:30 PM
I started using toning tables at a gym in my home town, I must say my body feels stronger and I fined exercise a lot easier. I can walk further than I used too.One thing that I don't understand is why there are not more of these gyms for people with mobility problems. and also I feel that the gyms who offer them are directed at woman only.Men would benefit from using toning tables. If I could find a full body toning table at the right price, very cheep I am out of work, I would empty my little shed in the garden and let a few little old ladies and people who have bad movment problems use it.I feel sure it would make a diffrence to the way they feel.My GP says toning tables should be on precription he says he has many patients who would benefit.I hope one day they will.Its not all about getting hot and sweaty on treadmills. its gental exercise that can also work wonders.
Julia
- 17-Jul-12 @ 10:17 PM